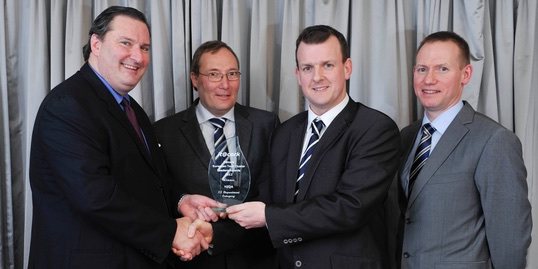 it@cork Leaders Awards 2012 – Denis Collins of IBM – Chairman
The it@cork Leaders Awards was a great evening enjoyed by all and it recognised just some of the great talent that lies out there within the Cork IT community.
As a serving Director of it@cork I was honoured to present the winner of the High Growth Award to YouGetitBack.com – in my address I stated that we chose the winner of the award because YouGetitBack.com showed that it was not just about having great technology, you need to align it with the right products and in the right markets where it can create value to your customer base. This company had the resilience, the learning, the focus and the creativity to do this and saw growth of 400% year on year – amazing !
The two finalists in the High Growth catagory were:
1. Westbourne IT Solutions  www.westbourne.ie
2.Asystec www.asystec.ie
Congratulations to both of them also as being two companies that have done great things with their business.
The guest speaker of the evening was Billy Walsh who is the coach to our own Gold medal Olympic Champion Katie Taylor ! Billy spoke on the challenges which faced his team in wining for Ireland and was a very engaging and interesting speaker – much of his speech resonated with the crowd in terms of fighting spirit and digging deep etc to perform to your best etc – thank you Billy, I left Maryborough House ready to take them all on !
See here for the full article from it@cork on the 2012 Leaders Awards: http://itatcork.newsweaver.ie/monthlynews/1t5zxisq3tr?a=6&p=29681865&t=21826435
Thanks once more to my fellow Judges, being Eoin Gilley of Advance Consulting (www.advanceconsulting.ie) and John McInerny of Zartis (www.zartis.com)
Well done again to our Chairman Denis Collins for his inpisring leadership and to John Wall and his team for a fantastic event that went like clockwork  – looking forward to 2013 already!